Community Involvement
 "Seeing the difference these great agencies like United Way, Big Brothers Big Sisters, and Safe Haven make in our community keeps me coming back," Chad says. "It is amazing how small efforts—like sharing a meal with a homeless family, spending time with the child of an incarcerated parent, or providing holiday gifts for a family who loses everything in a natural disaster—can have a huge impact on the community. It is also encouraging to hear the stories of those who have been helped through these organizations and how their lives have been changed for the better."   Chad Greer
For the past 15+ years, Chad Greer has served his community in two important ways -- as a leadership volunteer to raise financial resources that support critical health and human service needs, and as a hands-on volunteer at several nonprofit agencies, where he works with homeless and at-risk children and their families.
---

Chad's leadership has helped to create an entire new generation of community leaders who now provide significant support and volunteer service to the United Way of Metropolitan Nashville, sustaining more than 63 funded partner agencies in the areas of health, education and welfare. His quest to attract a new, younger generation of leadership donors to United Way began in 2000 when he joined the board of the United Way Sennet Society, a young professionals group of donors. Chad has served as a Sennet Society Campaign Ambassador since 2004, recruiting more than 200 new leadership donors for $300,000 in annual gifts.
In 2005, he became an inaugural member of the Next Generation Tocqueville Society, a program to help young leaders under the age of 45 transition to become leadership donors to the United Way. Chad has been instrumental in the program's growth, serving as co-chair and helping to recruit 60 members at the $10,000 giving level. Next Generation Tocqueville continues to grow and has raised $2.7 million for the United Way. Chad also led the United Way campaign at the Northwestern Mutual office for the past six years, and he chairs the office annual holiday gift drive.
For the past 15 years, Chad also chaired the annual adopt-a-family holiday gift drive at Northwestern Mutual's Nashville office to ensure that children served by United Way's family resource center would have a joyful holiday.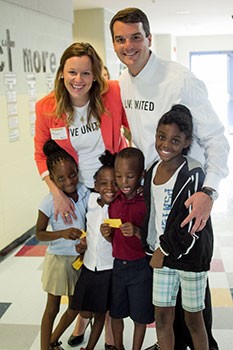 ---
Chad's understanding of community needs is grounded in his 19 years of hands-on volunteer work. Since 1998 Safe Haven Family Shelter, the area's only shelter-to-housing program that keeps homeless families together as they transition to self-sufficiency. He also served as a board member of Safe Haven and is a longtime advisory board member.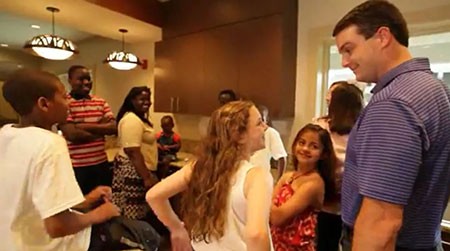 ---

Since 2011, Chad has been a Big Brother mentor to a child in the Amachi program of Big Brothers Big Sisters, which serves children of incarcerated parents.  When the Amachi program lost federal funding, Chad stepped forward to serve on the board and his leadership involvement increases each year. Chad is the current board president.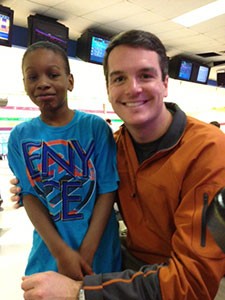 ---
Community Service Awards
For his dedication and outstanding leadership, Chad has received a number of service awards, including three national awards:
Invest in Others Charitable Foundation national Community Leadership Award as one of three national Community Service Award finalists, 2015

Northwestern Mutual top national Community Service Award, 2013

Northwestern Mutual national Community Service Award, 2006 & 2017